IS Complex

Complex combines polysaccharide-rich extracts from four mushrooms (Maitake, Reishi, Chaga and Shiitake) with Ophiocordyceps sinensis biomass, EGCG (Epigallocatechin gallate) and food-state Vitamin C.

Cordyceps has a profoundly energising effect on different aspects of the body, at least some of which may be accounted for by its ability to stimulate in-vivo corticosterone production. It also contains a diverse array of secondary metabolites including nucleoside derivatives.

Immune-modulating mushroom polysaccharides help to support the immune system and their benefits have been shown to reinforced by vitamin C.

EGCG is the main antioxidant from Green Tea extracts of Chaga and Reishi also supply betulinic acid derivatives, ganoderic and lucidenic acids.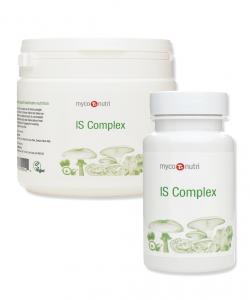 Explore our IS Complex products below:
Products
Adaptogens

Adjunct Nutrition

Brain

Cardiovascular Health

Digestion

Energy & Vitality

Eyes

Joints & Muscles

Liver

Men

Mushrooms

Pets

Probiotics

Relaxation

Respiratory

Superfoods

Women

We Love!