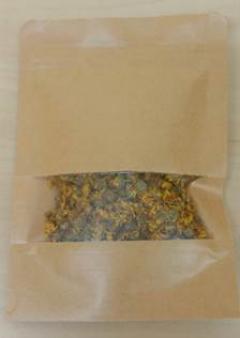 Wild Chrysanthemum Tea - 20g
(QWC20)
Product Description
Harvested on Taiwan's rugged east coast, this wild chrysanthemum tea (Chrysanthemum indici) is notable for its flavour and aroma, which are much more intense than the normal chrysanthemum tea (Chrysanthemum morifolium).

Chrysanthemum indici is called Ye Ju Hua in Chinese and is ascribed the properties of draining fire and relieving toxicity and of benefitting the eyes.

Just a small pinch of these wild chrysanthemum flowers are required to make a delicious drink and can either be taken on there own or a few can be added to oolong tea to give it a fresh twist.
Products
Adaptogens

Adjunct Nutrition

Brain

Cardiovascular Health

Digestion

Energy & Vitality

Eyes

Joints & Muscles

Liver

Men

Mushrooms

Pets

Probiotics

Relaxation

Respiratory

Superfoods

Women

We Love!