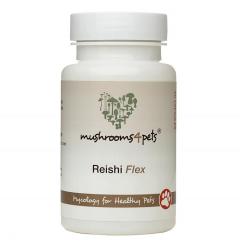 Reishi Flex - 60 capsules
(4GL60)
Product Description
Reishi's triterpenoid components show strong anti-inflammatory activity, while its polysaccharides help to re-balance the immune system's response in cases where it is overactive, as well as where it is underactive. Together, they contribute to its benefits for a range of musculo-skeletal conditions, benefits which are reinforced inReishi Flex by:
Devil's Claw
Boswellia
Turmeric
Ingredients – Ganoderma lucidum hot-water and ethanolic extracts with minimum 30% polysaccharides and 3% triterpenes, Harpagophytum procumbens extract (1.5% harpagoside), Boswellia serrata acid (60% boswellic acid), Curcuma longa extract (95% curcuminoids).
60 x 400mg capsules
Products
Adaptogens

Adjunct Nutrition

Brain

Cardiovascular Health

Digestion

Energy & Vitality

Eyes

Joints & Muscles

Liver

Men

Mushrooms

Pets

Probiotics

Relaxation

Respiratory

Superfoods

Women

We Love!