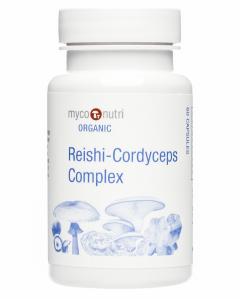 Organic MycoNutri Reishi-Cordyceps Complex - 60 capsules
(OMRC60)
15% discount on purchases of 3 or more
Product Description
NOW SOIL ASSOCIATION CERTIFIED ORGANIC!

Both Reishi and Cordyceps are well known for their hepatoprotective properties and for their ability to support lung function. In classical Chinese medicine the combination is also considered to nourish Qi, Blood (Xue), Yin and Yang.

Combining Ophiocordyceps sinensis mycelial biomass with Reishi hot-water extract and Reishi ethanolic extract and Ashwagandha KSM-66 extract (the 'Indian Ginseng') this complex provides all-round support for well-being and is an excellent supplement for those with hectic lifestyles.

MycoNutri products are manufactured in the U.K. to EC food standards and are suitable for vegetarians and vegans (capsules are of plant origin). No additives are used and the products are dairy, gluten, maize and soya-free.
Products
Adaptogens

Adjunct Nutrition

Brain

Cardiovascular Health

Digestion

Energy & Vitality

Eyes

Joints & Muscles

Liver

Men

Mushrooms

Pets

Probiotics

Relaxation

Respiratory

Superfoods

Women

We Love!