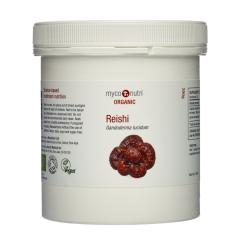 Organic MycoNutri Reishi - 200G
(OMGL200)
15% discount on purchases of 3 or more
Product Description
NOW SOIL ASSOCIATION ORGANICALLY CERTIFIED
Together with high levels of polysaccharides, Reishi contains over 100 triterpenoid compounds (ganoderic and lucidenic acids) which are responsible for many of its unique properties. Although Reishi is traditionally made into a tea (hot-water extract) these triterpenes are poorly water soluble but highly soluble in ethanol (alcohol).

In order to deliver the full-spectrum of this most revered of mushrooms the Reishi used in MycoNutri Organic Reishi is grown on whole Duanwood (basswood) logs, extracted twice with hot-water and once with ethanol before the combined extracts are concentrated and spray-dried without the addition of maltodextrin or other carriers to achieve a finished product with a minimum of 15% beta-glucans and 4% triterpenes.

All MycoNutri products are manufactured in the U.K. to EC food standards and are suitable for vegetarians and vegans (capsules are of plant origin). No additives are used and the products are dairy, gluten, maize and soya-free.

200g Organic Ganoderma lucidum pure hot-water and ethanolic extract combination.

Products
Adaptogens

Adjunct Nutrition

Brain

Cardiovascular Health

Digestion

Energy & Vitality

Eyes

Joints & Muscles

Liver

Men

Mushrooms

Pets

Probiotics

Relaxation

Respiratory

Superfoods

Women

We Love!