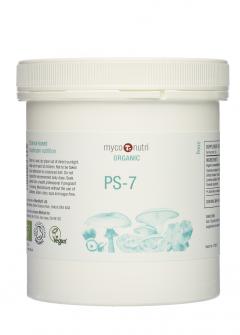 Organic MycoNutri PS7 - 200g
(OMPS250)
15% discount on purchases of 3 or more
Product Description
NOW SOIL ASSOCIATION CERTIFIED ORGANIC!

MycoNutri Organic PS-7 is made up exclusively of polysaccharide-rich hot-water extracts from seven mushrooms: Ganoderma lucidum (Reishi), Grifola frondosa (Maitake), Inonotus obliquus (Chaga), Lentinula edodes (Shiitake), Pleurotus ostreatus (Oyster Mushroom), Trametes versicolor (Coriolus) and Tremella Fuciformis (Snow Fungus).

Minimum 30% beta-glucans. The high concentration and diverse structures of beta-glucans and related polysaccharides that it contains makes it ideal for broad spectrum support in chronic and acute conditions as well as during conventional treatment.

MycoNutri products are manufactured in the U.K. to EC food standards and are suitable for vegetarians and vegans (capsules are of plant origin). No additives are used and the products are dairy, gluten, maize and soya-free.
Products
Adaptogens

Adjunct Nutrition

Brain

Cardiovascular Health

Digestion

Energy & Vitality

Eyes

Joints & Muscles

Liver

Men

Mushrooms

Pets

Probiotics

Relaxation

Respiratory

Superfoods

Women

We Love!