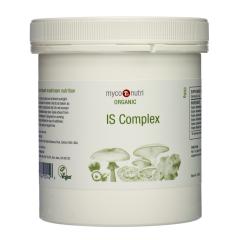 Organic MycoNutri IS Complex - 200g
(OMIS250)
Product Description
MycoNutri IS Complex combines polysaccharide-rich extracts from four mushrooms (Maitake, Reishi, Chaga and Shiitake) with Ophiocordyceps sinensis (Cordyceps) biomass, Green Tea Extract (98% polyphenols) and Vitamin C (food-state).

Vitamin C and green tea have both been shown to reinforce the benefits of mushroom polysaccharides while Cordyceps' nucleoside derivatives and triterpenoid compounds from Chaga (betulinic acid derivatives) and Reishi (ganoderic and lucidenic acids) contribute to the all-round support offered by this combination..

MycoNutri products are manufactured in the U.K. to EC food standards. The mushroom biomass used is grown in the USA on sterile grain-based substrate and is optimized to maximise substrate conversion and hence mycelial production.

All MycoNutri products are suitable for vegetarians and vegans (capsules are of plant origin). No additives are used and the products are dairy, gluten, maize and soya-free.
Products
Adaptogens

Adjunct Nutrition

Brain

Cardiovascular Health

Digestion

Energy & Vitality

Eyes

Joints & Muscles

Liver

Men

Mushrooms

Pets

Probiotics

Relaxation

Respiratory

Superfoods

Women

We Love!