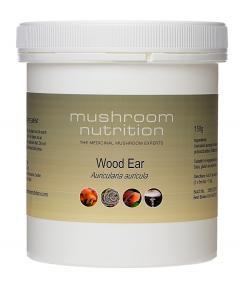 MycoNutri Wood Ear - 250g
(MAA250)
15% discount on purchases of 3 or more
Product Description
Both A. auricula and A. polytricha are considered as species of Wood Ear in Chinese medicine and today are used interchangeably. In common with other jelly fungi, they contain high levels of polysaccharides, which are the main active components.

MycoNutri Wood Ear - 250g auricula auricula hot water extract.
Products
Adaptogens

Adjunct Nutrition

Brain

Cardiovascular Health

Digestion

Energy & Vitality

Eyes

Joints & Muscles

Liver

Men

Mushrooms

Pets

Probiotics

Relaxation

Respiratory

Superfoods

Women

We Love!