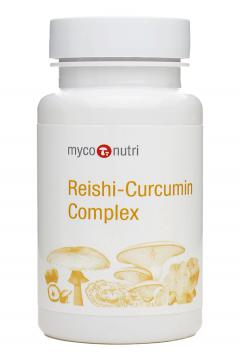 MycoNutri Reishi-Curcumin Complex - 60 Capsules
(MRCC60)
15% discount on purchases of 3 or more
Product Description
Combines Reishi with three complementary herbs for exceptional joint and muscle support.

Extracts of Ganoderma lucidum (30% polysaccharides/3% triterpenes), Curcuma longa (95% curcuminoids), Boswellia serrata (60% boswellic acid) and Harpagophytum procumbens.

MycoNutri products are manufactured in the U.K. to EC food standards and are suitable for vegetarians and vegans (capsules are of plant origin). No additives are used and the products are dairy, gluten, maize and soya-free.
Products
Adaptogens

Adjunct Nutrition

Brain

Cardiovascular Health

Digestion

Energy & Vitality

Eyes

Joints & Muscles

Liver

Men

Mushrooms

Pets

Probiotics

Relaxation

Respiratory

Superfoods

Women

We Love!