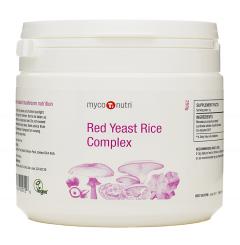 MycoNutri Red Yeast Rice - 250g
(MRYR250)
15% discount on purchases of 3 or more
Product Description
Multiple research papers confirm the benefits of Monascus purpureus and Shiitake (Lentinula edodes).

MycoNutri Red Yeast Rice Complex combines Monascus purpureus (Red Yeast Rice - Hong Qu Mi) standardised to 1.6% Monacolin K and free from citrinin, a potentially harmful component of some Monascus purpureus containing products, with optimized eritadenine-containing Shiitake mycelial biomass. Each capsule also contains 50mg of CoenzymeQ10 to avoid possible depletion of this vital nutrient.

MycoNutri products are manufactured in the U.K. to EC food standards and are suitable for vegetarians and vegans (capsules are of plant origin). No additives are used and the products are dairy, gluten, maize and soya-free.

250g extract standardised to 1.6% Monacolin K in combination with Shiitake optimized mycelial biomass and Co-enzyme Q10.
Products
Adaptogens

Adjunct Nutrition

Brain

Cardiovascular Health

Digestion

Energy & Vitality

Eyes

Joints & Muscles

Liver

Men

Mushrooms

Pets

Probiotics

Relaxation

Respiratory

Superfoods

Women

We Love!