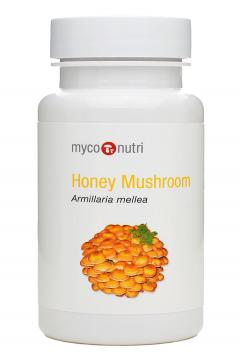 MycoNutri Honey Mushroom - 60 capsules
(MAM60)
15% discount on purchases of 3 or more
Product Description
Honey Mushroom (Armillaria mellea) produces a number of unique compounds, including several antibiotics and indole compounds, with high levels secreted into the culture medium during liquid fermentation.

In order to benefit from the full-spectrum of this mushrooms' activity MycoNutri Honey Mushroom therefore combines A. mellea mycelial extract with A. mellea culture-medium extract. Standardized to 30% polysaccharides.

MycoNutri products are manufactured in the U.K. to EC food standards and are suitable for vegetarians and vegans (capsules are of plant origin). No additives are used and the products are dairy, gluten, maize and soya-free.

60 x 500mg Armillaria mellea mycelium with A. mellea culture-medium concentrate.
Products
Adaptogens

Adjunct Nutrition

Brain

Cardiovascular Health

Digestion

Energy & Vitality

Eyes

Joints & Muscles

Liver

Men

Mushrooms

Pets

Probiotics

Relaxation

Respiratory

Superfoods

Women

We Love!