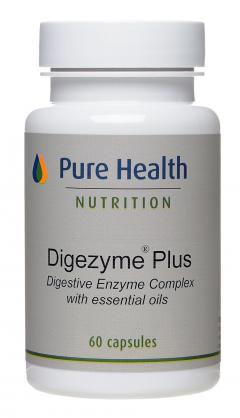 Digezyme Plus - 60 capsules
(PDA60)
Product Description
Serving size: 2 Capsules
---
Amount
Per Serving
% Daily Value*

Calcium (as Calcium Sulfate)

120 mg

12%

Vegetable Enzyme Complex (Digezyme®)

50 mg

*

Papain (Papaya Enzyme)

75 mg

*

Bromelain (2000 GDU Pineapple Enzyme)

15 mg

*

Lipase (Fat Digestant)

10 mg

*

Cellulase

10 mg

*

Alpha Galactosidase (Enzyme for beans and flatulence)

25 mg

*

Pancreatin

25 mg

*

Ginger Powder

25 mg

*

Peppermint Oil

10 mg

*

Spearmint Oil

10 mg

*

Ajowan Oil

10 mg

*

Fennel Oil

10 mg

*

Lactase

500 FCC Units

*

L-Sporogenes

1 million CFU

*

FOS (fructo-oligo-saccharide)

125 mg

*
---
*Daily Values not established.
Other Ingredients:
maltodextrin, gelatin, sucrose, talc, silicon dioxide, magnesium stearate, betaine HCl, glutamic acid HCl, fructose and glucose.
(Contains Milk, Soy and Wheat)
Free of:
egg or egg by-products, fish or fish by-products, shellfish or shellfish by-products, tree nuts and peanut or peanut by-products .
Directions:
Take one (2) capsules after a meal as required, as a dietary supplement, or as directed by your healthcare professional.
Products
Adaptogens

Adjunct Nutrition

Brain

Cardiovascular Health

Digestion

Energy & Vitality

Eyes

Joints & Muscles

Liver

Men

Mushrooms

Pets

Probiotics

Relaxation

Respiratory

Superfoods

Women

We Love!