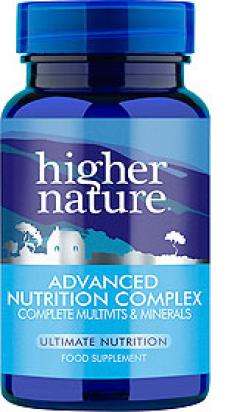 Advanced Nutrition Complex - 90 tablets
(HAN90)
Product Description
Two tablets typically provide:
Vitamin A (5000iu) 1500µg Vitamin D2 (200iu) 5µg Vitamin E (90iu) 60.6mg Vitamin C 200mg Vitamin B1 50mg Vitamin B2 50mg Vitamin B3 80mg Vitamin B5 50mg Vitamin B6 6.6mg Folic acid 130µg Vitamin B12 40µg Biotin 50µg Vitamin K 80µg Choline 20mg Inositol 20mg Calcium 340mg Iron 10mg Magnesium 150mg Zinc 10mg Chromium 40µg Iodine 30µg Selenium 30µg Manganese 2.6mg Molybdenum 30µg Copper 50µg

Tabletted with these natural ingredients
Hydroxypropyl methylcellulose, silicon dioxide, hydroxypropyl methylcellulose coating, vegetable magnesium stearate, vegetable stearic acid, sodium copper chlorophyllin.

Suggested intake
Take 2-3 tablets a day, with meals.

Please note
Contains Vitamin A. Do not take if pregnant, or planning pregnancy. B vitamins may turn urine bright yellow - this is normal. This product contains iron, which, if taken in excess, may be harmful to very young children. Keep out of their sight and reach.
Products
Adaptogens

Adjunct Nutrition

Brain

Cardiovascular Health

Digestion

Energy & Vitality

Eyes

Joints & Muscles

Liver

Men

Mushrooms

Pets

Probiotics

Relaxation

Respiratory

Superfoods

Women

We Love!